Want to buy hologram stretch fabrics? Order here!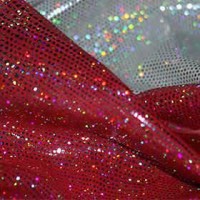 The Enchantment of Hologram Fabrics
If you're seeking a fabric that truly makes a statement, then our range of hologram fabrics is for you. These fabrics capture the light and reflect a rainbow of colors, making them a standout choice for both fashion and interior designs.
What are Hologram Fabrics?
Hologram fabrics, also known as holographic textiles, are made from synthetic materials that are designed to reflect light in a specific way. This results in a shiny fabric that appears to change color when viewed from different angles.
The Use of Hologram Fabrics
Fashion Hologram Material
Due to their unique appearance, holographic fabrics are popular in the fashion industry. They are often used for dance and sports clothing, as well as for eye-catching garments and accessories. Their shiny and colorful nature can bring any outfit to life.
Holographic Interior Fabric
Hologram fabrics are not limited to clothing. They can also be used to create striking elements in your interior design. From pillows to curtains, holographic design fabric can add a modern and exciting element to any home.
Our Hologram Fabrics
We take pride in our high-quality hologram fabrics. Our fabrics have a bi-directional stretch, meaning they are extremely versatile and can be used for a wide range of projects. They are available in a range of eye-catching colors and designs, ensuring you can always find the perfect fabric for your project.
The Details
Quality: 80% Polyamide 20% Spandex
Width: 145- 150 cm
Weight: 210 grams/m2
Prices
The retail price is €24.95 per meter. For wholesale customers, we offer the following prices:
≥ 6 Meters €10.00 Excl. VAT.
≥ 12 Meters €9.00 Excl. VAT.
≥ 40 Meters €8.00 Excl. VAT.
Frequently Asked Questions
Can I use this fabric for my sewing project?
Absolutely! Our hologram fabrics are highly versatile and are suitable for a wide range of projects, from clothing to interior design.
Is this fabric stretchy?
Yes, our hologram fabrics have a bi-directional stretch, making them suitable for a wide range of applications.
Conclusion
Our collection of hologram fabrics offers you the opportunity to create truly unique and standout designs. Whether you're looking to create a statement garment or add a touch of shine to your interior, our holographic fabric is the perfect choice. Explore our range today and start creating something beautiful.