Lace Fabric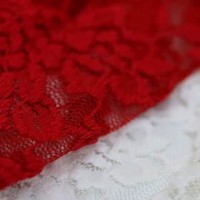 Lace fabric at cheap prices. We sell stretch lace fabric per meter.
Information: Lace is an openwork fabric, patterned with open holes in the work. The design is created by twisting and loosening threads. Through the online fabric store you can buy stretch lace fabrics so you can start sewing tights, blouses, skirts, lingerie or a beautiful wedding dress. Here you can order stretch lace fabric by the meter. This fashion fabric is also suitable for party wear or dancewear. The lace fabric stretch black is the most sold color and quality of Rijs Textiles.
Suitable for: Clothes, vitrage, hobby, curtains, decoation.