Knitted Cable Jacquard Fabric - A Synonym for Luxury and Quality | Textile Shop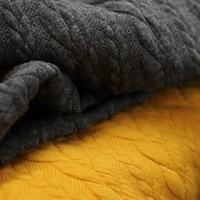 Unravel the Luxury of Knitted Cable Jacquard Fabric
Our Knitted Cable Jacquard Fabric brings together the luxurious feel of high-quality fabrics and the intricate beauty of the Jacquard weaving technique. This fabric, characterized by its cable pattern, is ideal for both fashion design and interior decoration projects.

The Elegance of Knitted Cable Jacquard Fabric
With its unique cable pattern, Knitted Cable Jacquard Fabric is a testament to the beauty of Jacquard knitwork. The fabric's texture adds a unique depth to any design, be it a stylish clothing item or an eye-catching piece of interior decoration.
Quality and Composition
This fabric is composed of 81% Polyester, 16% Viscose, and 3% Elastan, making it a durable and versatile choice. With a width of 150 cm and a weight of 340 grams/m2, it offers ample coverage for any project.
Quality: 81% Polyester 16% Viscose 3% Elastan
Width: 150 cm
Weight: 340 grams/m2
Care Instructions
To maintain the fabric's quality and extend its lifespan, follow these care instructions:
Wash at 30 degrees
Iron at a maximum of 110°C
Can be steamed with various solvents, including perchlorethylene
Do not bleach
Do not tumble dry
Where is the Fabric Manufactured?
Our Knitted Cable Jacquard Fabric is proudly manufactured in China, ensuring its premium quality and durability.
Pricing
We offer competitive pricing options to suit your needs:
≥ 6 Meter € 5.50 Excl. Tax
≥ 12 Meter € 5.00 Excl. Tax
≥ 50 Meter € 4.75 Excl. Tax
Conclusion
Step into the world of luxury textiles with our Knitted Cable Jacquard Fabric. Whether you're a fashion designer or an interior decorator, this high-quality fabric is sure to elevate your projects to new heights.