Cotton Satin Stretch Fabric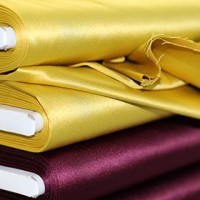 Cotton satin stretch fabric at cheap prices.
Information: The quality of this beautiful cotton satin fabric with a bit of stretch is perfect for the creation of a sturdy jacket. Shiny weft threads are used to give the fabric a luxurious look and feel. The cotton fabric is elegant and has a pleasant wearing comfort. Because the fabric contains elastane and a little polyester, you can sew garments that creases less than a full cotton fabric. This 240 gram/m2 heavy woven fabric is not translucent and does not need to be lined. Buy a standard quality fabric by the meter that you can wear all year long.
Suitable for: jacket, pants, skirt.