Knitted Corduroy Jersey Fabric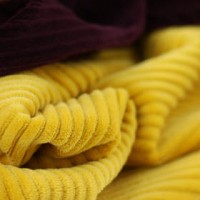 Knitted corduroy jersey fabric per meter.
Information: Knitted corduroy jersey is a ribbed stretch fabric that is also called ribcord or rib velvet. This cotton quality stretch fabric has soft ridges in the width direction of the fabric. If you are looking for the same quality, but without ridges, then view the "Nicky Velour Fabric" category.
Suitable for: pants, jacket, blouses, children's clothes.