Stretch Corduroy Fabrics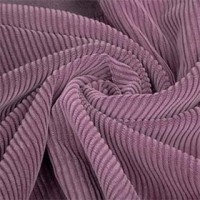 The Ultimate Guide to Corduroy Stretch Fabric
Are you looking for a versatile fabric that's both fashionable and comfortable? Look no further than corduroy stretch fabric, also known as ribfluweel or stretch ribfluweel. This unique textile is perfect for a variety of clothing and home décor items, making it a must-have for any sewing enthusiast. In this comprehensive guide, we'll cover everything you need to know about corduroy stretch fabric, including its features, benefits, and inspiration for your next sewing project.
What is Corduroy Stretch Fabric?
Corduroy stretch fabric is a type of corduroy textile that has added elastane or spandex, providing extra stretch and flexibility. This makes it perfect for garments that require ease of movement, such as pants, skirts, and jackets. The fabric is composed of 97% cotton and 3% elastane, with a soft, fluweelachtige texture and distinctive ribbed pattern.
Features of Corduroy Stretch Fabric
Stretchable: As the name suggests, corduroy stretch fabric is width stretch, making it comfortable to wear and easy to work with.
Width and Weight: This fabric typically comes in a width of 140 cm and a weight of 325 grams/m2, making it suitable for various projects.
Quality: Corduroy stretch fabric is made from ring yarn, ensuring a high-quality and durable finish.
Certificate: The fabric is OEKO-TEX® STANDARD 100 certified, meaning it's tested for harmful substances and is safe for use in clothing and other items.
Corduroy Stretch Fabric in Fashion
Thanks to its unique texture and stretchability, corduroy stretch fabric is popular in the fashion world. From ribfluweel clothing to corduroy mode accessories, this versatile material can be found in various wardrobe staples. Here are some popular uses for corduroy stretch fabric in fashion:
Pants: Stretch corduroy pants are comfortable and stylish, making them perfect for both casual and formal occasions. They provide ease of movement while maintaining their shape throughout the day.
Skirts: Corduroy skirts, especially A-line and pencil styles, are a trendy choice for autumn and winter fashion. The added stretch in the fabric ensures a comfortable fit and flattering silhouette.
Jackets: Corduroy jackets and blazers made with stretch fabric are not only fashionable but also provide a comfortable range of motion. They're ideal for layering over sweaters or blouses during the colder months.
Dresses: Corduroy stretch fabric can also be used to create chic and comfortable dresses, perfect for casual and semi-formal events.
Home Décor Applications
Beyond fashion, corduroy stretch fabric is also suitable for various home décor projects. The soft, velvety texture and durability of the material make it an excellent choice for the following:
Upholstery: Corduroy stretch fabric can be used to upholster chairs, sofas, and other furniture, adding a touch of sophistication and comfort to any living space.
Pillows and Cushions: Create cozy and stylish pillows or cushions with corduroy stretch fabric, perfect for adding texture and warmth to your home décor.
Curtains: Corduroy curtains made from stretch fabric can provide an elegant and cozy look to any room while also offering light-blocking capabilities.
Wholesale Prices for Corduroy Stretch Fabric
If you're looking to purchase corduroy stretch fabric in bulk, take advantage of the following wholesale prices:
≥ 6 Meters: €8.00 Excl. VAT
≥ 12 Meters: €7.25 Excl. VAT
≥ 12 Meters x 4 pieces: €7.00 Excl. VAT
≥ 50 Meter roll price: €6.75 Excl. VAT
These wholesale prices offer significant savings compared to the retail price of €14.95 per meter, making it an excellent opportunity for businesses, designers, or anyone looking to create a large number of items using corduroy stretch fabric.
FAQs about Corduroy Stretch Fabric
Q: How do I care for corduroy stretch fabric?
A: To maintain the quality and appearance of corduroy stretch fabric, it's recommended to wash it in cold water on a gentle cycle and line dry or tumble dry on low heat. Use a cool iron if needed.
Q: Can corduroy stretch fabric be used for children's clothing?
A: Yes, corduroy stretch fabric is suitable for children's clothing, as it's soft, comfortable, and OEKO-TEX® STANDARD 100 certified, ensuring it's free from harmful substances.
Q: How much does corduroy stretch fabric cost?
A: The retail price for corduroy stretch fabric is €14.95 per meter. Wholesale prices are available for bulk orders, with discounts depending on the quantity purchased.
Conclusion
Corduroy stretch fabric is a versatile and stylish textile that's perfect for a variety of projects, from fashion items to home décor. Its unique ribbed pattern, soft texture, and added stretch make it a popular choice for those looking to create comfortable and fashionable garments. With its numerous applications and benefits, corduroy stretch fabric is a must-have addition to any fabric collection.