Felt Fabrics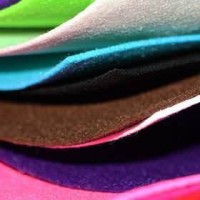 What is felt fabric?
Felt fabric is a type of non-woven textile material that is made by compressing natural or synthetic fibers together, without the use of weaving or knitting. Felt can be made from a wide range of materials. Felt is the oldest technique for making fabric. Felt is made by compressing and matting fibers until they connect and form a firm fabric. This is a non-woven technique for making textiles. Unlike woven fabric, felt does not fray or unravel. It's an easy fabric to work with on projects. And therefore often used to teach children how to sew.
Different types of felt at Rijs Textiles.
Wool Felt 3mm: It's a blended felt fabric from sheep's wool en polyester. It has the benefits of both types of vilt, including durability, softness, affordability and sound-absorbing. It is also called acoustic felt and is used for sound insulation. Blended vilt is commonly used for clothing, bags, and accessories.
Felt Fabric 3mm: It's a synthetic felt that's made from polyester. It is less expensive than wool vilt and is also available in a wide range of colors. Felt fabric can be used in many ways such as for clothing and costumes, bags, handicrafts, upholstery and decoration.
Craft Felt 1.5mm: It's a synthetic felt that's made from polyester. It's thinner and a very flexible material. You often see this for decorating flowers or clothes for dolls.
What can you make with felt fabric?
One of the most popular uses for felt is in the creation of hats, particularly in traditional styles such as fedoras and berets. Felt hats are known for their durability, and the natural properties of wool felt make it particularly well-suited to this purpose, as it is water-resistant and can withstand regular wear and tear.
Felt fabric is also commonly used in craft and DIY projects. Its soft texture and ability to hold its shape make it perfect for making decorative items such as wreaths, ornaments and stuffed animals. Felt is easy to cut, sew and glue, making it a popular choice for novice and experienced crafters alike.