Bamboo Jersey Fabrics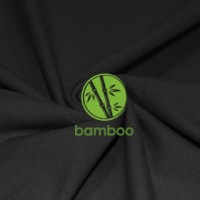 Buy bamboo jersey fabrics online in 20 different colors.
Information: This bamboo jersey is a knitted fabric made from 96% bamboo and 4% elastan. The dual-stretch jersey can be stretched both ways. The best thing about bamboo jersey fabric is that it is a natural textile made from the pulp of bamboo grass. Therefor bamboo jersey fabrics are environmentally friendly and healthy alternatives to conventional cotton. Bamboo jersey is super soft, very breathable, fast drying and thermal regulating. Try this beautiful quality bamboo jersey with sewing your own dress.
Suitable for: T-shirts, drapes garments, Tops, dresses.