Tulle Netting Fabric 300CM Wide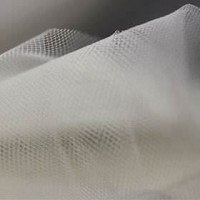 Buy wide tulle fabric online by the metre or a cheap Advantage Package.
Information: Bridal tulle is a very nice netting fabric with a width of 300cm. This wide tulle fabric is meant to sew a veil, but is also intended as a decorative fabric. The Rijs Textiles bridal tulle is of a fire resistant quality. This quality tulle is therefore very suitable for decoration and clothing. The netting fabric 300cm wide is ideal for home-made fashion, because the mesh fabric feels soft. Order now online and you can create the most beautiful tulle skirts.
Suitable for: Decoration, hobby.