Stretch Toweling Fabric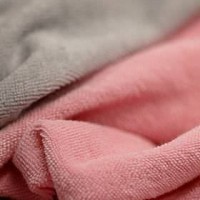 Stretch toweling fabric per meter.
Information: Stretch toweling fabric with a soft and smooth feeling. The loops are on one side. This tricot toweling fabric is ideal for creating baby clothing, sun lounge covers and terry towel pyjamas. This cotton fabric has the advantage that the fabric is soft to the skin and moisture absorption is possibble.
Suitable for: Children's clothing, bedding, bathrobe etc.