Double Gauze Fabric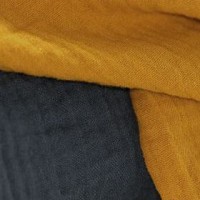 Muslin Fabrics - Ideal for Every Season
What is Muslin?
Muslin is a fine, lightweight cotton fabric with a crinkly texture. It is a woven fabric that feels soft and is highly absorbent. It is often used for clothing such as blouses, dresses, or scarves. Muslin is also popular in the production of baby items such as burp cloths or cloth diapers.
Different Types of Muslin Fabrics
Rijs Textiles is an online wholesaler for private individuals and business customers with a large selection of muslin fabrics. Muslin is versatile and highly popular for making clothing, baby items, and decoration. As a result, we offer different qualities, colors, and prints.
Muslin (Double Gauze): This is a double-layered muslin that is most popular for universal use in clothing, accessories, and baby items. We have a wide selection of solid colors and (digital) prints.
Muslin (Triple Gauze): This is a triple-layered muslin that has a thicker quality and is often used for clothing.
Stretch Muslin: This is a two-layered muslin with an elastic thread that makes the fabric stretchable. This is useful when making clothing items.
Caring for Muslin Fabrics
Muslin fabrics require extra care to maintain their softness and breathability. Here are some tips for caring for muslin fabrics:
Wash muslin fabrics in low temperatures
Use gentle laundry detergents
Avoid using fabric softeners
Air-dry muslin fabrics to maintain their softness
Muslin Fabrics - History and Origin
Muslin fabrics have their origin in ancient India. The fabric was manufactured in the city of Mosul in Iraq and then became known in Europe. The fabric was an important part of the Indian trade industry and was traded by merchants throughout Asia, Europe, and Africa.
Muslin Fabrics - Oeko-Tex® Standard 100
All muslin fabrics sold by Rijs Textiles have an Oeko-Tex® Standard 100 Class 1 certificate. If a textile article carries the STANDARD 100 label, you can be sure that every component of this article, such as every thread, button, and other accessories, has been tested for harmful substances and that the article is therefore safe for human health. Class 1 means that the fabric meets the highest quality standards.