Double Gauze Fabric Printed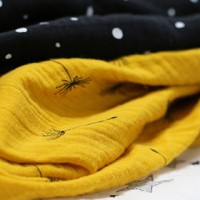 Double gauze fabric printed with beautiful designs.
Information: Double gauze fabrics printed with beautiful designs. Buy this cotton fabric that is suitable for making clothes yourself. Muslin fabric has a very good moisture absorption. The cotton mousseline is a double-layered fabric and used to be used for sewing bibs and burp cloths. Now the baby cotton fabric is also used for sewing fashion clothes, crib sheets, bathcapes and sleeping bags.
Suitable for: Blouses, tunics, dresses, skirts, baby clothes, pillows.