Boucle Fabric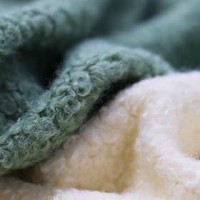 Boucle Fabric Curly =buy online.
Information: Boucle Fabric Curly is a luxurious knitted fabric with soft, warm properties and an irregular surface with loops and curls. Fabric composition is 95% polyester and 5% wool. The impressive fabric is dirt-resistant, almost wrinkle-free and easy to work with. Due to the irregular structure, small mistakes in sewing are not visible, which makes this fabric very suitable for novice seamstresses.
Many people know this fabric from Coco Chanel's tweed jackets in the fifties. Today, the boucle fabric is much more than a tweed jacket. It is mainly used for (outer) clothing, such as a stylish coat, blazer or dress. Boiled wool is also a nice alternative to a blazer. For a nice finish, blazers and jackets are finished with a stretch lining fabric. If you are looking for a more even fabric for a coat, you could look at the Caban fabrics.
In addition to clothing, boucle is also often used for upholstering furniture and home accessories. The fabric has a width of 150cm, where the fabric can be used to upholster an ottoman or armchair. Upholstering a large sofa can be difficult due to the width of the fabric, but making a nice cushion is certainly possible. Curly teddy fabric is also used for furniture and home accessories fabrics.
Boucle Fabric Curly can be used for
winter coats, jacket, dresses, blazer, skirts, pillow etc.
Can curly boucle fabric be sewn on a sewing machine?
Boucle can be sewn on a sewing machine. The needle you can use for this is a universal needle number 80 or 90. You can use standard polyester thread for the sewing thread and special buttonhole thread for the buttonholes.