Double Gauze Fabric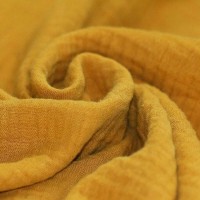 Buy Double gauze fabric by the meter online.
Information: A super soft double gauze fabric per meter made of cotton. Order this soft fabric that is suitable for sewing clothes, such as blouses, tunics, dresses or skirts. The cotton mousseline is a double layer fabric and was in the past mainly used for the creation of bibs and burp cloths. The diaper fabric is not only suitable for sewing baby and children's toys, but also for the homemade fashion with regard to adults and decoration.
Suitable for: Blouses, tunics, dresses, skirts, baby clothes, pillows.