Cotton Knitting Yarns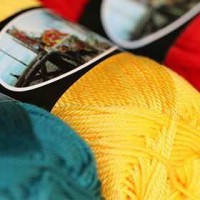 Cotton knitting yarn at cheap prices. Order cotton crochet yarn per drop or per package.
Information: Cotton yarn by ISPE® is very suitable for the production of clothes, decorations and stuffed articles. The article LUXOR® is made of 100% mercerized Egyptian cotton. Mercerized means that the yarn has been treated, so it will get a fine luster and a silky appearance. This luxurious quality yarn is also burnt, so there will be no little hairs on the thread. Egyptian cotton is the best cotton in the world. Because of the structure of the cotton fiber, Egyptian cotton is softer and shinier than ordinary cotton. Buy the cotton crochet yarn at the Rijs Textiles webshop and you will be surprised about the quality and colors yarn. Order a cheap online crochet cotton package with 48 different colours yarn drops.