Cotton Knitting Yarns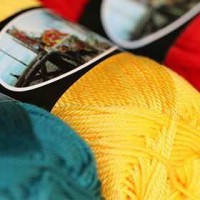 BUY CROCHET COTTON IN THE ONLINE FABRIC STORE AND WHOLESALE RIJS TEXTILES
Information: The crochet yarn of the brand ISPE article LUXOR is made of 100% mercerized Egyptian cotton and has an OEKO-TEX standard 100 product class 1 certificate. The cotton yarns have a rich color, a lovely soft and silky feel. These luxury quality yarns are also burnt off, so no hairs form on the thread. The crochet cotton yarns are of very high quality and therefore certainly suitable for making all your crochet projects such as (children's) clothing, decorations and soft toys. You can use knitting and crochet hooks with needle size 2.5 – 3.5. By choosing a higher quality in crochet yarn, your project will stay longer beautiful, even after washing. You can wash the cotton crochet yarn at 40°C hand wash and iron at low temperature.
What is Egyptian Cotton?
Egyptian cotton is the best cotton in the world. The cotton has a great purity and has long fibers. The structure of the cotton fiber provides a wonderfully soft feeling on the skin, is strong, cool, breathable and can absorb a lot of moisture.
What does mercerized cotton mean?
Mercerized cotton means that the threads have had a special treatment. The treatment does not involve harmful fabrics because this article has an OEKO-TEX standard 100 product class 1 certificate. The treatment makes the yarn softer, gives it extra shine and makes the colors even richer.
What does OEKO-TEX standard 100 product class 1 mean?
The article has been tested for harmful fabrics according to the applicable criteria. Products with the STANDARD 100 label inspire confidence. A product class is a group of different items that are categorized according to their intended use. The different product classes differ in terms of the requirements that the products must meet and the limit values that are used. Product class 1: This product class includes products for babies and has the strictest requirements and limit values.