Cotton Twill Ribbon 25mm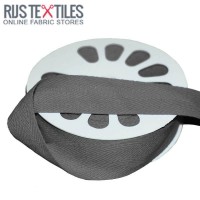 Order cotton twill ribbon 25 mm per meter.
Information: Cotton twill ribbon 25 mm wide has its name due to the interwoven ribs and stripes that resemble a twill binding. This non elastic and strong ribbon is used, for adding stability to jackets, for making loops, for bag hinges or to bind and enclose straight fabric edges. We also have a narrower 15 mm wide cotton twill tape quality available in the online store.