Cotton Twill Ribbon 25mm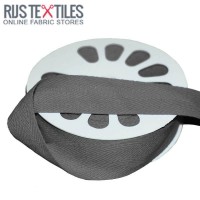 Discover the Versatility of Twill Cotton Ribbon: An Essential Element in Creations of Every Size!
What is Twill Tape?
Twill tape is a textile product characterized by its unique weave pattern, known as the twill pattern. This pattern creates a diagonal line in the fabric, resulting in a sturdy and durable material. Manufactured from high-quality cotton, our twill tape offers a combination of flexibility and robustness, making it suitable for a wide range of applications.
Applications in Creations:
Sewing and Quilting:
Twill tape is an essential tool for sewing and quilting projects. It can be used to reinforce seams, create ties, or add decorative accents.
Clothing and Accessories:
This versatile material is ideal for reinforcing garments, such as pant hems, skirts, and sleeves. Additionally, it can be used for creating belts, straps, and other accessories.
Craft Projects:
Creative minds can use twill tape for a wide range of craft projects. From making bags to designing interior decorations, the possibilities are endless.
DIY Projects:
For DIY enthusiasts, twill tape provides a durable solution. Whether you're working on furniture restoration, curtains, or other home improvement projects, twill tape can make a difference.
Why Choose Our Twill Cotton Tape?
Our twill cotton tape is available in two widths: 25 mm and 15 mm, allowing you to choose the perfect size for your project. With a range of 13 vibrant colors, we meet all your design needs.
Prices per meter: €0.65
Wholesale Prices:
≥ 50 Meters: €0.32 Incl. VAT per Meter
≥ 250 Meters: €0.25 Incl. VAT per Meter
Add a touch of quality to your creations with the twill cotton tape from Rijs Textiles. Order today and discover the endless possibilities of this essential textile product!
Showing 1 to 13 of 13 (1 Pages)