Bias Binding (Haberdashery)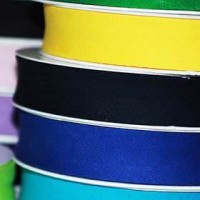 Buy bias binding for sewing online. Order cheap haberdashery per meter at the online fabric shop.
Information: Bias Binding is used to bind and enclose straight or curved fabric edges. As a result, you do not suffer from unfinished seams. Bias tape or ribbon are in the online store for sale per meter or per package. If you want to buy a cheap package with cotton bias binding, you can also buy it from our online store. Order bias binding of different qualities and widths, such as satin bias tape and elastic bias binding. The latest trend in bias tape is jersey bias binding. You can also buy this in the webshop.