Jersey Bias Binding 20mm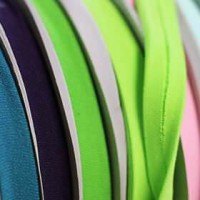 Order jersey bias binding 20mm per meter or packaging here.
Information: Jersey bias binding (haberdashery) is used to bind and enclose straight or curved stretch fabric edges. Rijs Textiles sells jersey biastape per meter and per 25 meter package. Often this jersey bias tape is nice to use in a contrasting color. This will ensure that the edges of a garment are highlighted.