25mm Polypropylene Webbing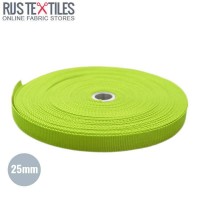 Buy polypropylene webbing 25 mm wide online.
Information: Polypropylene webbing 25 mm wide by the metre at Rijs Textiles. Polypropylene webbing is used for bags, straps, handles, reinforcements, sporting goods. If you are looking for a wider webbing. The 40mm wide polypropylene webbing is available in our online store. We also have another cotton quality available. This is the 40mm wide cotton webbing.