Cotton Belt Webbing 25mm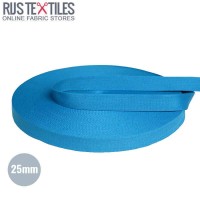 Buy cotton belt webbing 25mm wide online.
Information: We offer a 25 mm wide cotton webbing in a full range of colors. This can be used for a variety of applications including webbing belts, bags, tie-downs, or anything that requires strength and durability. We also offer a different material in two width options. The 25mm Polypropylene Webbing or the 40mm Polypropylene Webbing.
Showing 1 to 16 of 16 (1 Pages)