15CM Zipper YKK Metal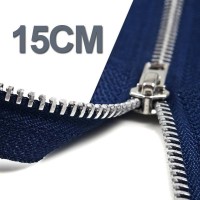 15CM Zipper YKK Metal - Sturdy Closures for Diverse Projects
Are you in search of durable, non-separable metal zippers with a length of 15cm? Explore our 15CM Zipper YKK Metal in a range of 12 beautiful colors, perfectly suited for a wide variety of creative projects. These zippers are designed with a focus on durability and come with a convenient bottom stopper to prevent accidental opening.
Product Information:
Zip Composition: Metal
Composition: Polyester
Type: Non-Separable
Length: 15cm
Width: 2.5cm
Closed Tooth Width: Size 3 - 4.5mm
Loose Tooth Width: Size 3 - 3mm
Also available in 12mm and 18mm.
Price Information:
Price per piece: €2.10 including VAT
Wholesale Prices:
≥ 5 pieces: €1.60 including VAT per piece.
≥ 10 pieces: €1.30 including VAT per piece.
≥ 50 pieces: €1.05 including VAT per piece.
Versatile Use: These 15CM Zipper YKK Metal zippers are exceptionally versatile and can be used in various creative projects. Whether you want to create or repair clothing items like pants, skirts, jackets, bags, pouches, clutches, or makeup bags, these zippers offer strength and reliability for everyday use.
YKK Quality:
These zippers are from the renowned YKK brand, known for their top-quality and reliability. The metal teeth, combined with durable polyester tape, result in a high-quality closure that offers both style and durability.
Choose reliability and quality, choose 15CM Zipper YKK Metal from Rijs Textiles!
Showing 1 to 12 of 12 (1 Pages)