Jersey Cotton Fabric Digital Print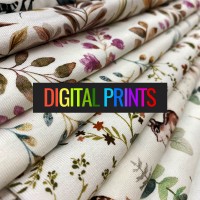 Buy jersey cotton fabric with digital print cheap online!
Information: A fabric that many use for sewing clothes and shirts. In the last few years the popularity of jersey fabric has increased due to its high wearing comfort and easy care. Cotton jersey digital print is ideal for making a tunic. Choose from our digital print patterns on a stretch-jersey fabric quality. This jersey fabric is not only extensible, but also retreats to its original form.
Suitable for: Tunic, shirt, skirt.