Wool Knitting Yarn Needle Size 5,5 - 6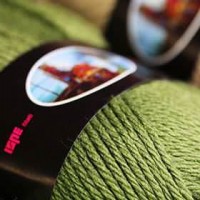 ISPE SENALES WOOL YARN 50% MERINO WOOL AND 50% SPECIAL ACRYLIC NEEDLE SIZE 5 ½ - 6 ORDER ONLINE
Information: The ISPE Senales woolen yarn can be used as knitting yarn, but also as crochet yarn. The yarn feels like a pure ball of wool, but is a combination of 50% merino wool and 50% special acrylic. It is a well-known combination that is often used. Adding acrylic to wool makes that fabric easier to maintain. You can wash this fabric hotter (hand wash 30 °C) than pure wool. The wool also itches less if you add acrylic to it. The needle size 5 ½ - 6 is recommended. We also offer matching knitting needles and crochet hooks.
The yarns are combed (worsted) which means that the yarns are combed before the threads are woven. Combing the yarn removes the small hairs and all the fibers go in the same direction. This makes the wool yarn feel very soft and smooth. Even after washing, the yarn remains of a beautiful high quality.
Merino wool is a popular wool because of the fact that it is a special type of wool. The wool has many advantages over other natural or synthetic yarns. Merino wool always has the right temperature. It retains heat well, but without overheating the body. In addition, it also has a moisture-regulating and absorbent effect, which ensures that the wool keeps the body dry. Why many people are so happy with merino wool is that the wool does not itch. Thanks to the high density fibers, it feels soft, so you don't get irritated skin and therefore no itching!