Jersey Cotton Stripes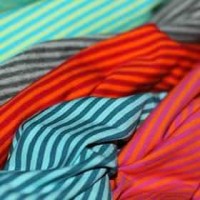 Order Cotton jersey stripes per meter online.
Information: Cotton jersey fabric stripes of good quality. Are you looking for a fabric that can be used for sewing T-shirts. Then jersey fabrics are ideal because of the stretchability. This ensures a comfortable and therefore pleasant feeling as a clothing fabric. The stripes are knitted and not printed. This cotton fabric is very suitable for sewing children's clothes, because cotton is a natural fiber and has a good moisture-regulating effect.
Suitable for: Tunic, shirt, skirt.
Showing 1 to 10 of 10 (1 Pages)