French Terry Brushed Fabric (Isoli)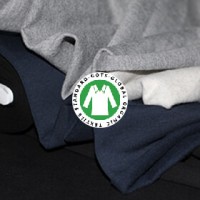 Buy organic French Terry (Isoli) fabric online.
Information: This super soft sweat fabric made of organic cotton with a 5% elastane is a Gots certified. The sweatshirt fabric is thicker and warmer than a single jersey, but not too thick. This is a lighter variant of regular french terry sweat fabric we sell, so it is suitable for all seasons. Because of the brushed back this jersey sweat fabric is comfortable on the skin. GOTS (Global Organic Textile Standard) has been developed to further produce organic cotton and other organically grown fibers into a durable garment.
Suitable for: sweater, vests, pants.