Linen Fabric - Natural Dyeing Quality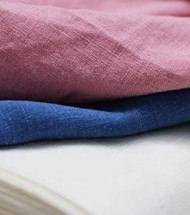 Order Natural Dyeing linen fabric per meter online.
Information: This is a linen fabric dyed with completely natural materials (Natural Dyeing). The dyes for dyeing the fabric come for example, from the skin of fruits. So this is a 100% organic fabric. Harmful dyes are still used in biological . We sell a linen fabric per meter with a nice soft feeling to the skin. The linen threads give a tough character to the fabric. Hand washing is recommended with cold water and pH-neutral biodegradable liquid soap. Hang the fabric to dry.
Suitable for: tunic, colbert, pants, decoration, curtains.