Modal French Terry Fabric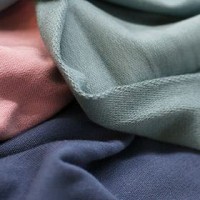 Buy Modal French Terry jersey per meter?
Information: French Terry is a knitted fabric with loops at the back and a smooth and soft surface on the other side. This sweatshirt quality is made from a modal fiber. This gives a super smooth and soft feel to the fabric, even more than mercerized cotton. Modal absorbs moisture better than cotton and falls beautifully. If you are looking for a cotton quality, it is also available in our online fabrics store. View the catorgerie Sweat Fabrics.
Suitable for: trousers, dresses, t-shirt, skirt.