Dots Knit Jacquard Fabric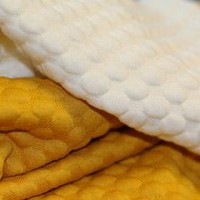 Buy Dots Knit Jacquard Fabrics online.
Information: This jacquard fabric with dots pattern features a soft polka dot design on one side and a solid knit on the other. This fabric will keep you warm. It is perfect for creating stylish cardigans, sweaters, scarves and pullovers. Warm and cuddly through the cold season.
Suitable for: sweater, vests, cardigans.
Showing 1 to 1 of 1 (1 Pages)